Cinema boycott thwarts potential No. 1 debut at box office
by Anousha Sakoui
`The current model is not sustainable,' studio executive says
Paramount Pictures gave up millions of dollars and the chance to lead the box office this past weekend in a bid to upend how Hollywood releases movies. The studio won't know until January whether it was worth it.
"Paranormal Activity: The Ghost Dimension," the sixth film in the horror series, opened in about half the U.S. and Canadian cinemas its predecessors did and took in less than half their sales, generating just $8.1 million. It would have done better if Viacom Inc.'s film division hadn't triggered a boycott by major U.S. theater chains by saying it would release the film on home video in about seven weeks, rather than the usual 90 days.
The payoff, if it comes, will be higher home-video sales. With movie attendance shrinking and small-screen viewing still growing, Paramount is trying to break the grip theaters have on releases. Its target is the three months of exclusivity, called a window, that cinemas get before a film comes out online or on DVD. Closing the gap could save millions in marketing costs and boost sales by letting studios release home videos while movies are still fresh in consumers' minds. That's especially true of horror flicks like "Paranormal Activity," which seldom last more than a month at the multiplex.
A successful test could be "an industry game changer" and alter the way horror films are released, said Jeff Bock, senior box office analyst at Exhibitor Relations Co. "Until we know what it's going make in home markets, we won't know if this is a misstep."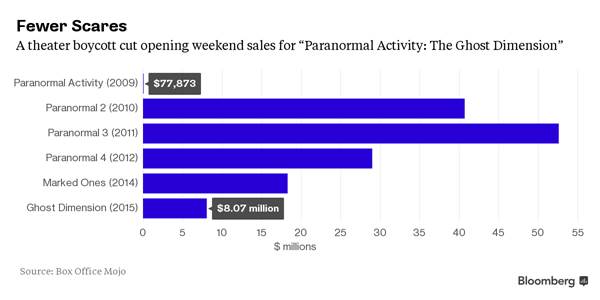 Paramount, based in Los Angeles, will repeat the experiment again this weekend with "Scouts Guide to the Zombie Apocalypse." As with "Paranormal Activity," the only major U.S. chain showing the film will be AMC Entertainment Holdings Inc., which was offered a chunk of the future home-video revenue in exchange for its cooperation. The other big U.S. exhibitors — Regal Entertainment Group, Cinemark Holdings Inc. and Carmike Cinemas Inc. — won't be screening "Scouts Guide" this Halloween weekend.
"It was OK to try it out on those films, but I am not so sure if other studios will follow suit," said Geetha Ranganathan, an analyst at Bloomberg Intelligence. "It had a sizable impact on theatrical performance. If there was any doubt, that has been put to rest."
Paramount executives said they were pleased by the early response, which made Kansas City-based AMC Entertainment the highest-grossing circuit over the weekend and "Paranormal Activity" its top-selling film. The picture, while landing in sixth place over the weekend, had the highest average per location of any major release.
It "almost certainly" would have been No. 1 with a normal release, said Matthew Harrigan, an analyst at Wunderlich Securities in Denver.
"There didn't seem to be any consumer resistance," Rob Moore, Paramount's vice chairman, said in an interview Sunday. "The only resistance seemed to be from exhibition, who were nervous about what the impact is of going earlier."
Under the deal with AMC, Canada's Cineplex Inc. and a few smaller exhibitors, Paramount can release the movie for home entertainment 17 days after the film dips below 300 domestic theaters. That could be around mid-December. Horror films typically attract younger fans who are more likely to see a film on the first weekend. Sales for the previous five "Paranormal Activity" installments dropped off dramatically after their first month in theaters.
"We need to keep looking at this and try to figure it out out long-term," said Megan Colligan, Paramount's president of worldwide distribution and marketing. "The current model is not sustainable."
Previous attempts by studios to reduce theatrical exclusivity have mostly failed. In 2011, Comcast Corp.'s Universal Pictures backed down from plans to offer the Eddie Murphy comedy "Tower Heist" via video-on-demand three weeks after its cinematic release. Major exhibitors refused to go along.
Filmmakers are also reluctant to experiment. Such encroachments "will damage theatrical and the trend, which is already under way, of a few big movies overshadowing the entire business will only increase," said Bill Mechanic, the former chairman of 20th Century Fox who now runs Pandemonium Films.
Home-video sales data aren't public. So gauging the success of Paramount's experiment will be tough, even after "Paranormal Activity" and "Scouts Guide" begin showing up on pay-per-view and DVD.
The best indicator may be whether Paramount or another studio tries to shake things up even more. AMC is open to change, kind of.
"We are unwilling to compromise the theatrical business, but open to experimenting to find innovative win-win solutions so that movies are enjoyed by more consumers," said Elizabeth Frank, the chain's executive vice president and chief content officer.
http://www.bloomberg.com/news/articles/2015-10-27/paramount-sacrifices-paranormal-sales-to-break-theaters-lock